Ultra-high pressure RO for brine mining: Saudi Arabia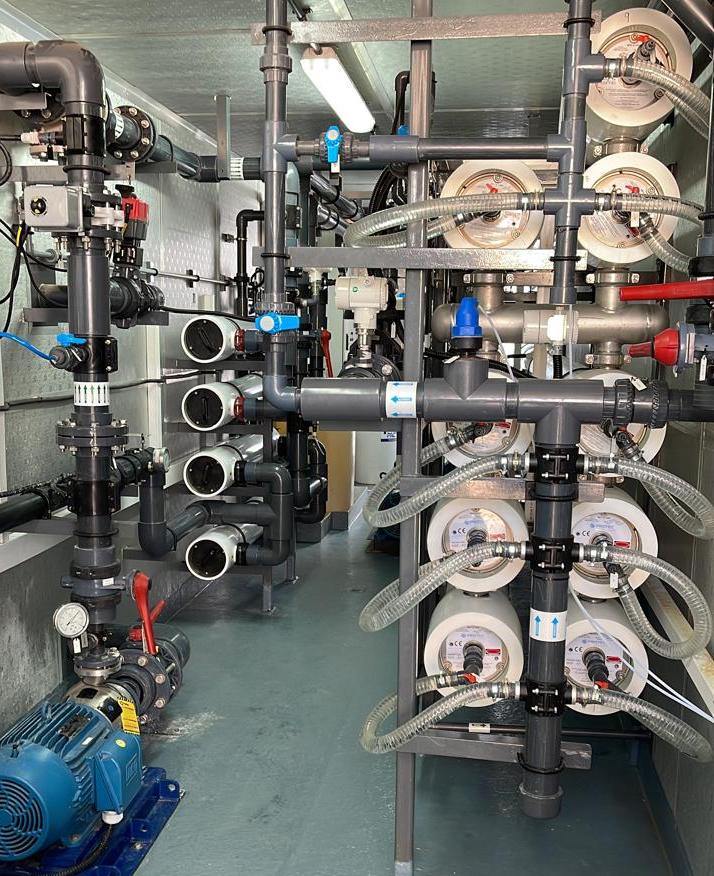 At-a-glance
Two-stage desalination system reaching 68% SWRO recovery with an energy consumption of 4 kWh/m3.
The system concentrates NF-preconditioned seawater to 100,000 mg/L and produces high-quality permeate.
Installed in collaboration with Saudi Arabia's SWCC (Saline Water Conversion Corporation) and DTRI (Desalination Technology & Research Institute) as part of a pioneering brine mining pilot.
About the project:
Saudi Arabia's Desalination Technology & Research Institute (DTRI), an R&D organization affiliated with the Saline Water Conversion Corporation (SWCC), is exploring how new technologies can extract precious minerals from the sea. DTRI plans to deliver 2 million tons per year of sodium chloride for the country's oil & gas industry. This will reduce reliance on environmentally harmful mining operations, and improve Saudi Arabia's self-sufficiency as part of the country's Vision 2030 roadmap.
FEDCO is working closely with SWCC and DTRI to develop sustainable and economical membrane-based solutions for brine mining applications, exemplified by the installation of the first ultra-high pressure SWRO array to use FEDCO's patented BiTurboTM technology at DTRI's pilot site in Jubail.
The BiTurboTM system treats 40 m3/hr of NF-preconditioned seawater with an exceptionally high recovery rate of 68%. Maximizing SWRO recovery reduces the size of the downstream membrane brine concentrator, improving the economic viability of the brine mining operation.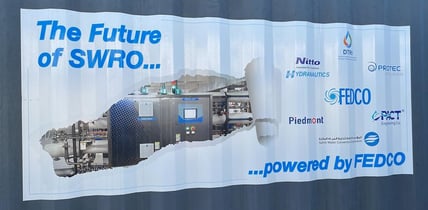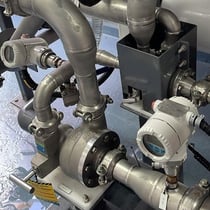 Ultra-high pressure SWRO unit installed at DTRI's Jubail pilot site. The system is compact, fitting into a single container at the site (left). The feed and interstage turbochargers are installed together (right), with the interstage booster contained within a steel housing.
About DTRI's brine mining pilot:
DTRI's brine mining operation will feature four treatment stages: nanofiltration, reverse osmosis, membrane brine concentration, and crystallization.
Nanofiltration
Pretreated seawater is conditioned using nanofiltration to remove sparingly soluble salts and produce a magnesium-rich brine. Magnesium is a highly valuable metal with applications in the pharmaceutical industry and beyond.
NF preconditioning allows for extremely high SWRO recovery rates due to the low scaling potential of the remaining salts in the feed solution.
The NF system operates at approximately 80% recovery, producing 40 m3/hr of permeate with 48,000 mg/L total dissolved solids.
Reverse osmosis
Nanofiltration permeate is fed to a two-stage seawater reverse osmosis system, operating at 68% recovery to deliver a 100,000 mg/L brine.
This design uses FEDCO's BiTurboTM SWRO design. The first-stage feed is pressurized to 60 bar, meaning that conventional RO pumps, pressure vessels, membranes and couplings meet the required pressure rating.
An HPB-Ultra turbocharger provides an interstage boost, pressurizing the first-stage reject to 100 bar. Ultra-high-pressure membranes, pressure vessels and couplings are used in this stage to handle such high operating pressures.
Membrane brine concentration and crystallization
Reject from the SWRO system enters a membrane brine concentrator system. This is a cascading membrane system using brine recirculation to reach a concentration of 225,000 mg/L.
At the final stage, the concentrated brine will enter a series of crystallization and separation processes for further refining into usable products.
Find out more:
High-Pressure Pumps - Energy Recovery Devices - Retrofits
Our RO expertise can help you improve membrane performance and recovery using our patented BiTurboTM technology. Our product range covers systems of any size, from containerized RO units to mega-scale SWRO.
Contact our sales team to learn more about working with FEDCO on your next new-build or retrofit reverse osmosis project.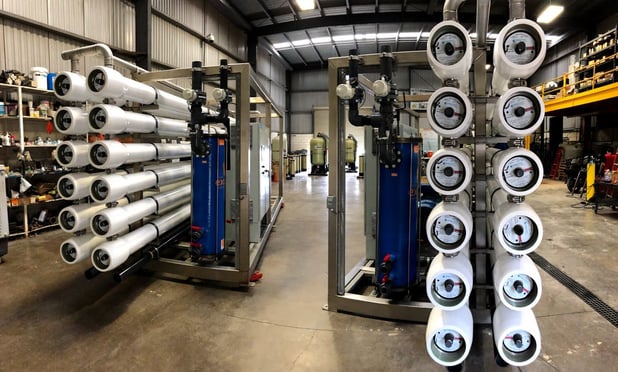 At a glance Pumps and turbochargers supplied for a 1,300 m3/d seawater reverse osmosis (SWRO) system, installed by Acuario Mercantíl in Cancún, Mexico The additional water supply enabled a 750 room expansion to hotel capacity with no impact on local
Read More »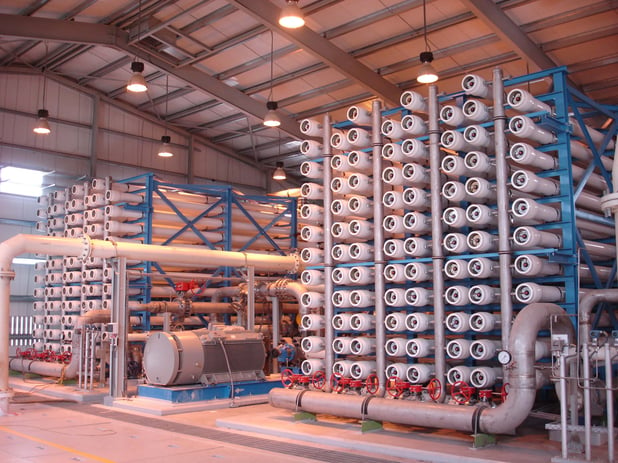 At a glance Six RO trains provide 48,000 m3/d of permeate for Saudi Arabia's busiest airport. Just one HPB turbocharger per train is required for effective energy recovery. Just two high-speed mechanical components per train are required for
Read More »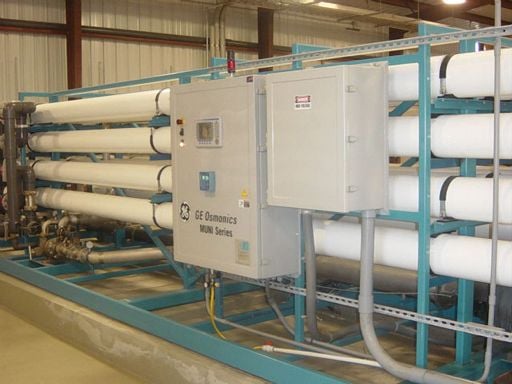 At a glance: Large-scale SWRO retrofit on the Caribbean island of Providenciales in the Turks and Caicos Islands. Replaced ageing positive displacement pumps and Pelton Turbine energy recovery devices (ERDs) with modern centrifugal high pressure
Read More »