High efficiency combined with superior materials for long term service in the most challenging feedwater.
All investment cast stage components, highly refined flow path and the innovative water bearing technology make the MSD the "go to" pump for the most demanding SWRO applications around the world.
---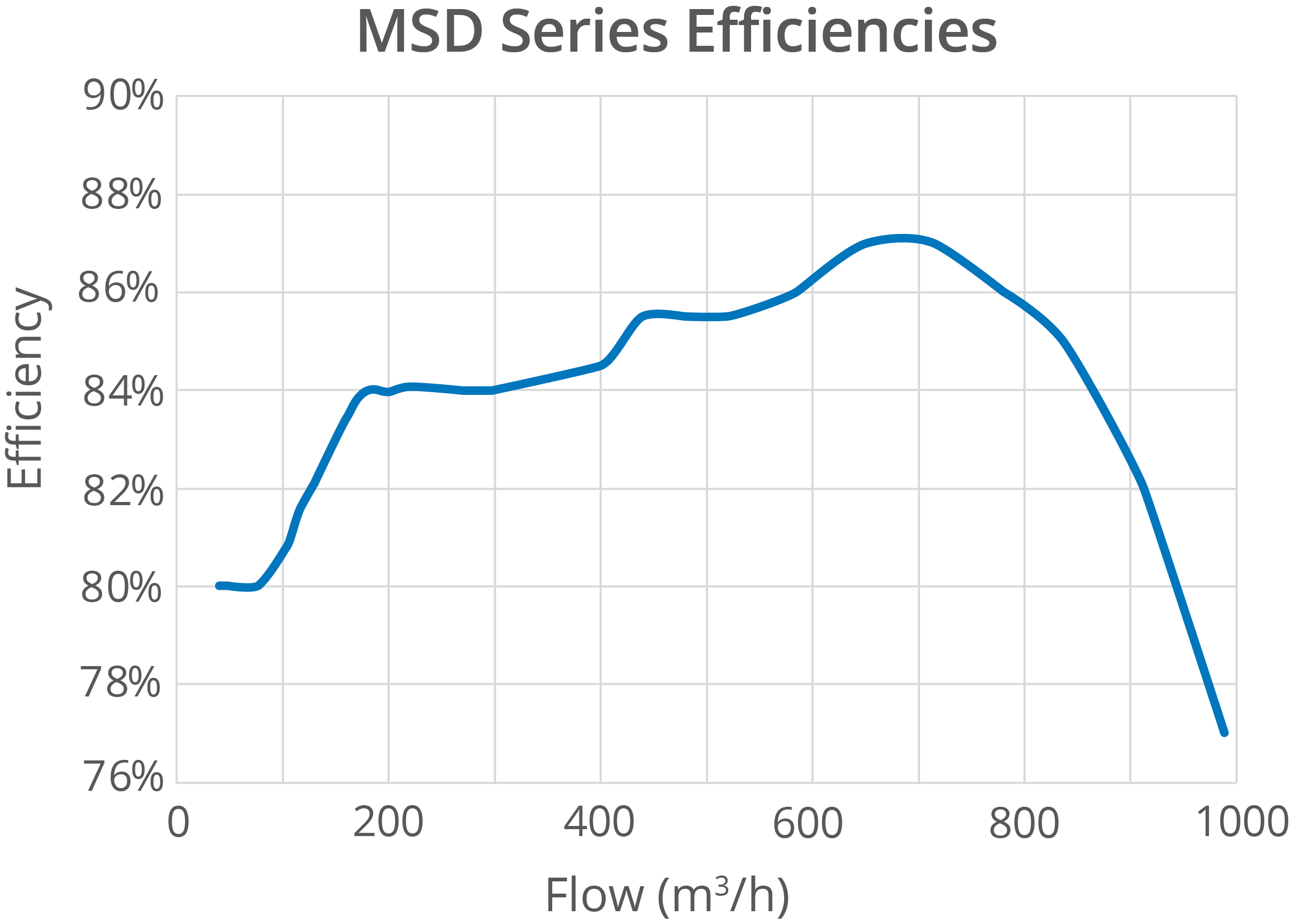 APPLICATIONS
RO Feed, Booster or Circulation Pump
Any High Pressure Clean-Fluid Application
KEY SPECIFICATIONS
20 – 1080 m3/h (88 – 4755 gpm)
Up to 87% efficiency
Pressures to 83 bar (1200 psi)
Super Duplex 2507 Construction with Electropolished Castings
FEATURES
Balanced Impellers
Simple Installation and Maintenance
No Oil or Grease Lubricant Required
Description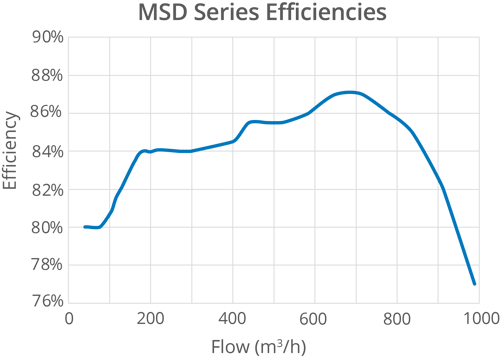 Loaded with unique features such as the patented Water Bearing™ product lubricated bearings, Super Duplex stainless steel construction, and maintenance-free design ensure years of trouble-free operation. No need for several pumps in parallel, the MSD line has a pump feed flow capacity range of 20 to 850 m3/h and efficiencies up to 87%.
MSD Low Flow models: MSD-40, MSD-70, MSD-130 with shelled design with Super Duplex Shell and shaft, Super Duplex stages standard, baseplate optional.
MSD High Flow models: MSD-160, MSD-200, MSD-350, MSD-400, MSD-650 and MSD-800 bolted stage design with Super Duplex shaft and stages standard, baseplate optional.
Features: High efficiency, fully custom engineered, patented product lubricated Water Bearing™ technology, precision leveling foot, Super Duplex construction, inlet rotation 90°.
Benefits:
High Efficiency – Up to 87%
Lubrication – fully lubricated by the pumpage only Smooth and quiet operation – well under 80 dBA (not including the motor)
High inlet pressure option – up to 83 bar (1,200 psi).
Shaft seal operates at low pressure
Flexible disc coupling
Bearing drain line (low pressure)
Stage support blocks
Victaulic pipe joints
Baseplate
Flanged construction for easy internal inspection
Inlet rotatable in 90° increments
Easy shaft alignment
Integrated motor adapter (anodized aluminum alloy)
Super Duplex (Zeron-100)
WATER BEARING™

High Inlet Pressure Option
All MSD series pumps can be equipped with a high inlet pressure option to allow inlet pressures to 70 bar. The unique design features standard mechanical seals operating at low pressure (1-2 bar) with total protection of the motor from pump thrust loads.
Options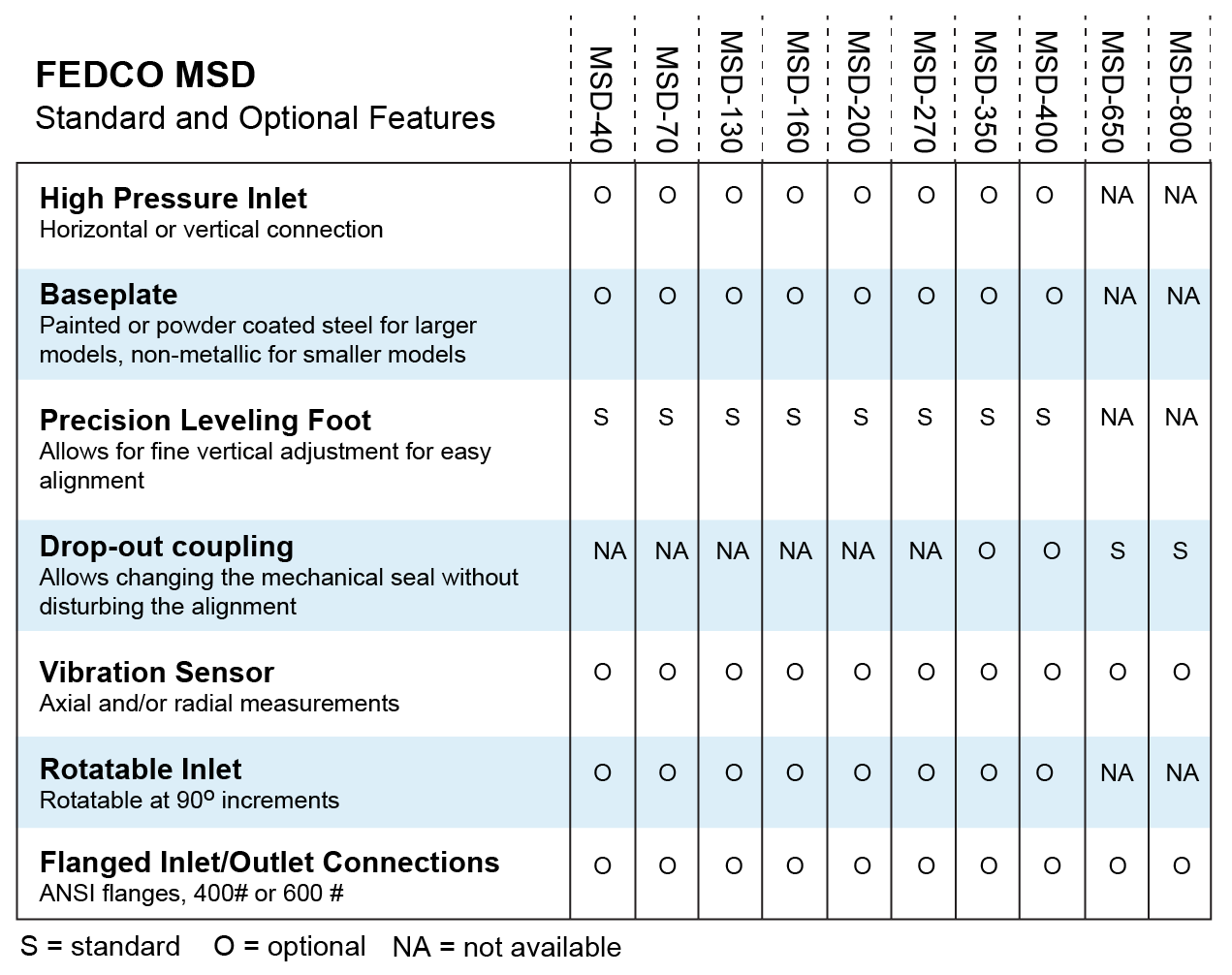 Please contact Customer Service for Manuals and Drawings.
Specifications
Brochures
Select a Pump
Small- and Mid-Scale Applications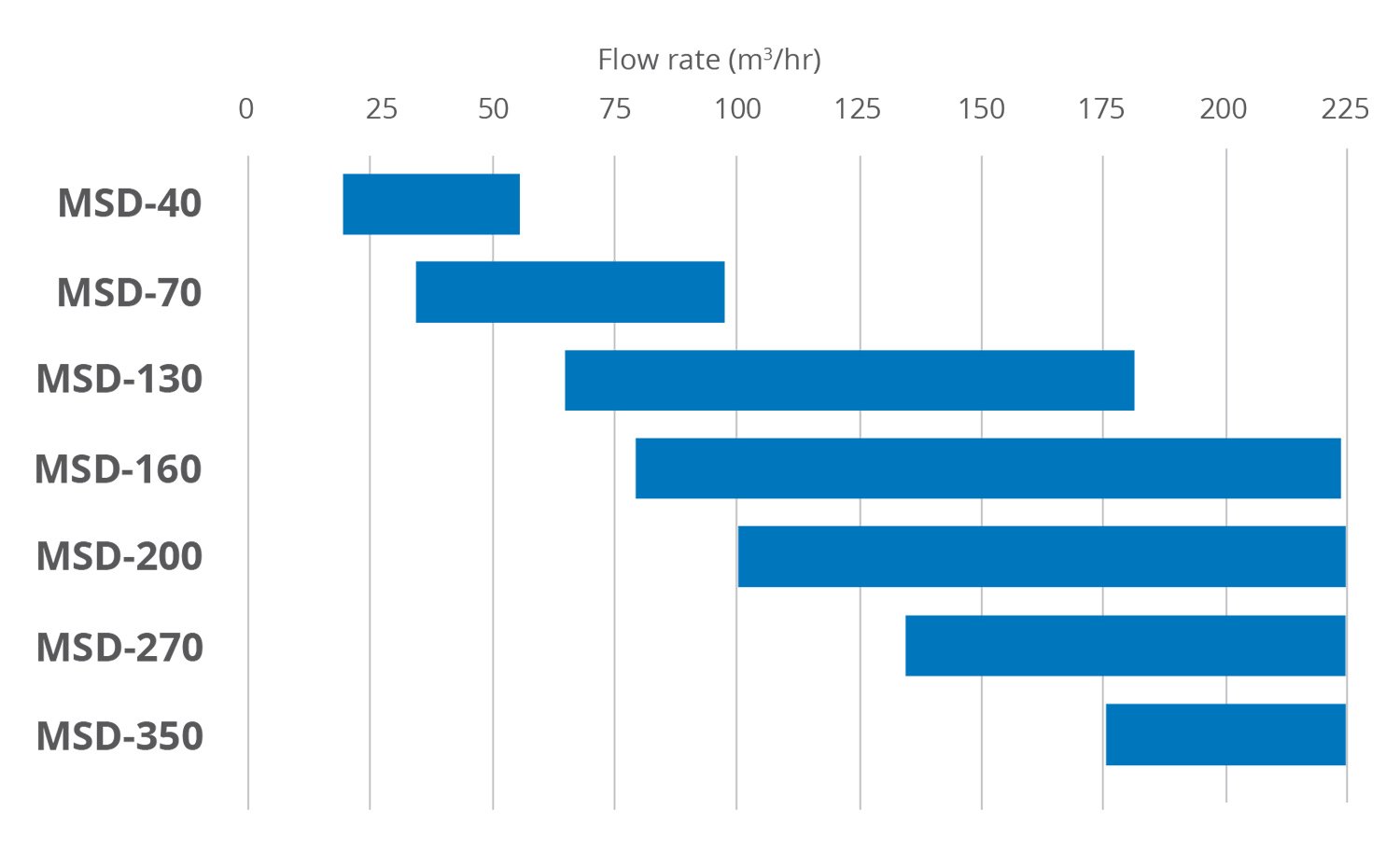 For lower flow rates the MSD Feed Pump provides the efficiency and reliability to ensure the lowest total cost of water in your RO system.
The MSD Feed Pump boasts efficiencies that are competitive with positive displacement pumps, while maintaining the smooth efficiency curve characteristic of centrifugal devices. This means that RO designers and operators need not worry about significant changes in energy consumption in the face of changing feedwater conditions.
Large- and Mega-Scale Applications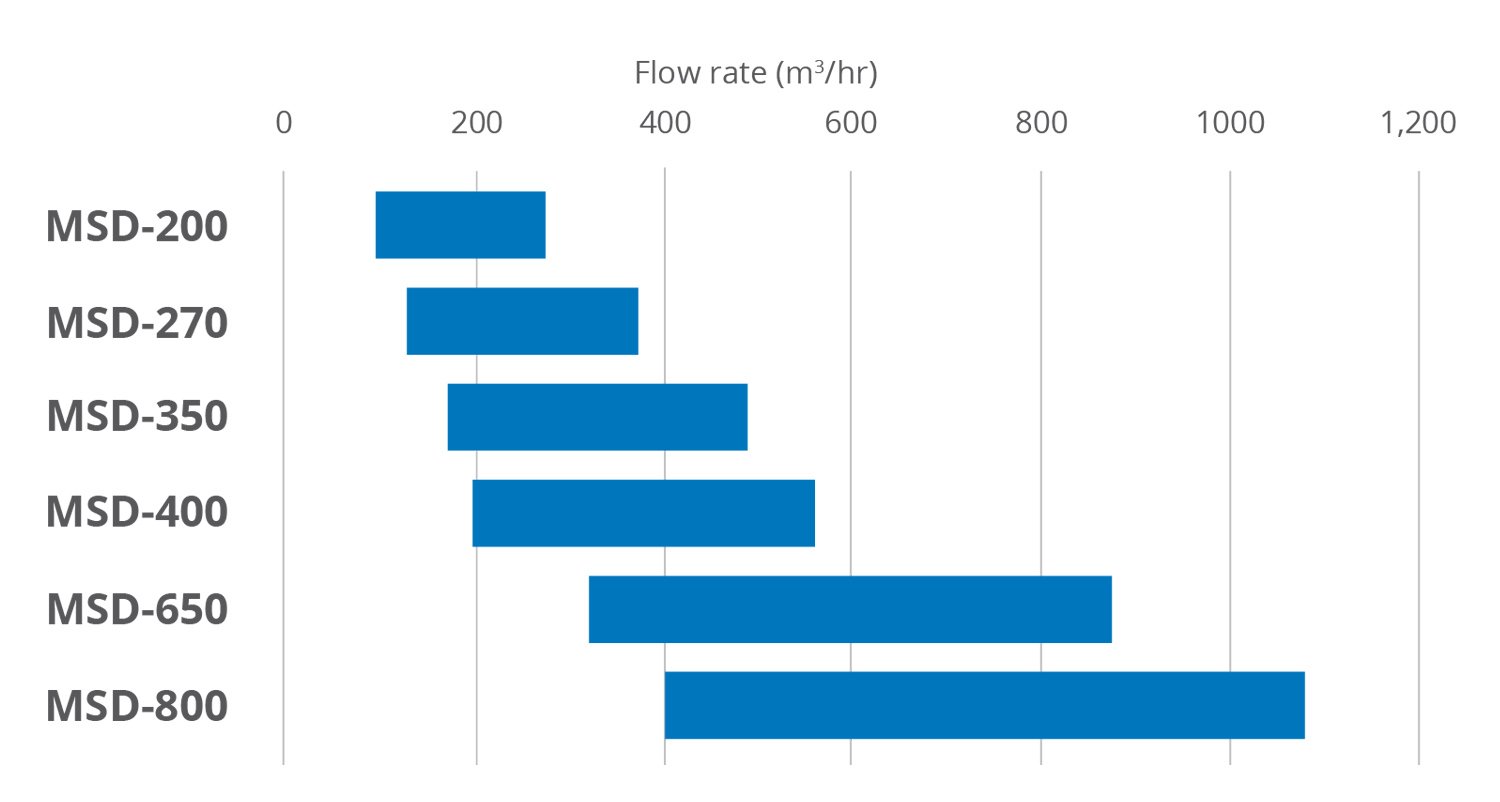 At larger scales, the efficiency of the MSD Feed Pump exceeds 86%. High efficiency and Super Duplex construction makes the MSD the go-to option for large-scale desaliantion facilities.
The MSD feed pump was used to achieve the world's lowest recorded SWRO energy consumption, in a unit commissioned by Saudi Arabia's Saline Water Conversion Corporation in 2021.
Complete the form at the top of the page to browse efficiency curves across the entire MSD Series.
You might also be interested in:
HPB Turbo – Energy Recovery Turbo can be paired with the MSD for added pressure and efficiency
MSS Series pumps – A value priced pump for lower TDS applications
BiTurboTM – Optimized two-stage SWRO technology