SLP pumps
High efficiency, single stage, close coupled centrifugal pump in Super Duplex material
Features
Single stage, close coupled
Multiple impeller trims available
No oil or grease lubrication for reduced maintenance
NEMA standard JM frame, TEFC motor for easy repair
Compact footprint for saving space
Centerline discharge for easy piping and self venting design
Back wear ring eliminates motor thrust load and extends shaft seal life
SLP Pump Applications:
Reverse Osmosis
Pre-Treatment
Backwash
Permeate Transfer
Booster
Description
The SLP pump series is a low pressure end suction, close-coupled horizontal pump for general water process applications. It was designed with high efficiency and Super Duplex stainless steel construction for reliability and longevity in harsh environments. This pump series features a standard mechanical seal with seal flush to ensure long life, centerline discharge, self-venting design and no oil or grease lubrication for simple installation and maintenance.
The SLP is offered in six ANSI 150lb flanged models with a set of customizable impellers, coupled with a NEMA standard TEFC, JM or JP motor frame mounted on a common baseplate. The compact footprint and robust construction gives the SLP series a superior advantage over similar pumps.
Applications:
Reverse Osmosis, Pre-treatment, Backwash, Permeate Transfer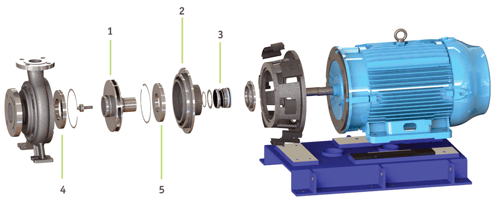 1. Impeller  2. Casing Cover  3. Mechanical Seal  4. Wear Ring  5. Wear Ring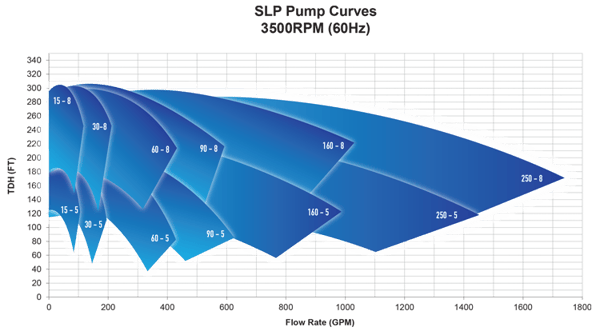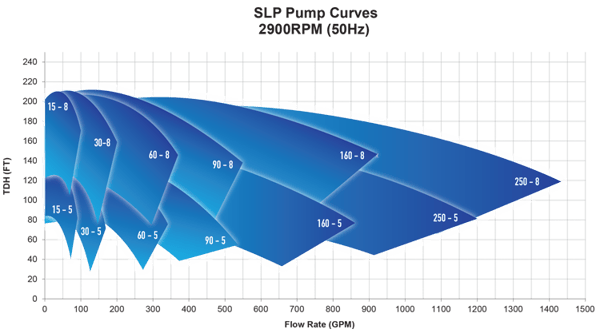 Please contact Customer Service for Manuals and Drawings.
Specifications
Brochures
You might also be interested in: