The perfect match for our pumps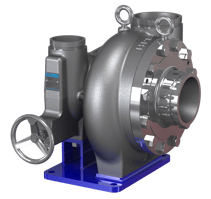 The HPB Energy Recovery Turbocharger increases performance and reduces operating costs when added to the MSS or MSD Series pumps.
It can also be used as an interstage booster to improve membrane performance and improve system reliability.
Our patented BiTurboTM desalination delivers optimal performance for any SWRO system by HPB turbochargers for both feed and interstage boosting.
Extend membrane life, improve permeate quality, and achieve recovery rates of 40-60% using conventional desalination equipment.